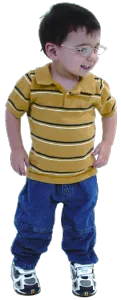 Tips for a Smooth and Successful Children's Eye Exam
At Romanoff Vision, we understand that bringing children in for an eye exam can be daunting. You might be worried about how they'll react or if they'll cooperate. Fortunately, our team is experienced in working with children of all ages, and we're here to help make the process as smooth and successful as possible.
Our office in Sylvania, OH, is conveniently located to serve Sylvania and Toledo, OH, and Monroe County, Bedford, Temperance, and Lambertville, MI.
Tips to Help You Prepare for Your Child's Appointment
1. Make sure your child is well-rested. A tired child is more likely to be cranky, which can make it difficult to sit still and cooperate.
2. Explain to your child what will happen during the exam. This will help ease any anxiety he or she might be feeling.
3. Be prepared to answer questions about your family's medical history. Our ophthalmologist will ask questions about any vision or medical problems that run in your family as this can help us better understand your child's condition.
4. If you have any concerns, don't hesitate to ask the pediatric ophthalmologist. We want to ensure that you have all the information you need so that you can make the best decisions for your child's care.
5. Relax! Our ophthalmologist is here to help and will do everything he can to make sure your child is comfortable during the exam.
During the Eye Exam
There are several different tests that our pediatric ophthalmologist will perform during your child's exam and the exam will be tailored based on the age and needs of your child. Here are a few of the tests that we might perform:
Eye chart test: This measures how well your child sees at various distances.
Cover test: This checks for any eye muscle imbalances or abnormalities.
Pupil reactions: This tests how your child's eyes respond to light changes.
Tonometry: This measures the pressure inside the eye, which can be helpful in diagnosing glaucoma (an increase in pressure).
Visual acuity test: This measures how well your child can identify objects at various distances.
After the Exam
Once the exam is complete, our team will go over the results with you and answer any questions you might have. We will also provide you with a written copy of the results that you can take with you when you leave. If necessary, we will also provide you with a list of recommended treatments or follow-up appointments so that you can take the next steps in ensuring that your child has the best possible vision health.
Schedule an Appointment Today
If it's time for your child's annual eye exam or if you have any concerns about their vision health, we encourage you to reach out to Romanoff Vision today! To schedule an appointment at our Sylvania, OH, office, call (419) 885-5556 or fill out our online form. We look forward to meeting you soon.