Receiving Your Vision Exam at Romanoff Vision
Serving Toledo, OH, Monroe County, Bedford, Temperance, Lambertville, MI
If you are having trouble with your vision, or if you need an exam to determine whether there are any problems with your eyes, seeing our Ophthalmologist is a smart option. Make an appointment at Romanoff Vision for a vision exam in Sylvania to ensure you have the proper prescription and to handle eye care needs. Here is some information about what you can expect when you see our eye doctor for a vision exam.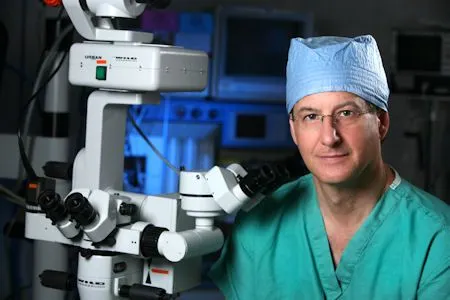 How Different Ages Require Different Examinations
Dr. Romanoff can conduct examinations on people of all ages to determine their vision needs. The first eye exam should be done around the age of four or five and repeated at least once every two years until approximately the age of sixty. At this time, increase the frequency of visitation to once a year. This allows for our ophthalmologist to use the history of past exams to find any changes in the eyesight and the health of the eyes. As we age, the eyes change, often leading to the deterioration of vision in the process. For this reason, increased examinations are needed during the senior years.
What We Look For During a Vision Exam
In addition to checking your vision, our practitioner will look for the presence of possible eye conditions or diseases that require intervention to remedy them properly. This includes checking your visual acuity, pressure inside of your eyes, your peripheral vision, your eyelids for function problems, the coordination of your eye muscles, the response to light of your pupils, and your prescription need.
Why It's Important to See Our Ophthalmologist Regularly
Failing to see our Eye Doctor in a timely manner could lead to the possibility of a problem not being found in time to provide a proper remedy. If you are suffering from a disease of the eyes or have a medical condition that needs help from a prescription or surgical procedure, there is a chance of deterioration of your vision or even blindness.
What to Expect During Your Exam
Your eye exam will begin with a discussion about your current vision and any problems you are experiencing. Our ophthalmologist will then check your vision to determine whether you are in need of corrective lenses. Tests are also done to check your eyes for any abnormalities that require assistance to reverse any possible damage.
Make Your Appointment at Romanoff Vision in Sylvania Today
If it is time for an eye exam, or if you are suffering from a condition that requires a checkup, call Romanoff Vision to make an appointment for your vision exam in Sylvania. Contact Dr. Romanoff and his staff by calling (419) 885-5556 today.